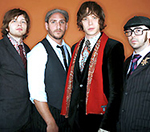 OK Go
have unveiled the latest in a series of special videos for songs from their recent album, '
Of The Blue Colour Of The Sky
'.
The video for 'End Love' utilises time-lapse photography, and was shot in one take over a period of 21 hours at a park near their hometown of Silverlake, California.
It shows the band moving from one day to the next, as they sleep overnight in the park, before being joined the following morning by a group of volunteer dancers.
OK Go's last video for 'This Too Shall Pass' featured a complex Rube Goldberg machine that sparked a series of chain reactions.
The band also won a Grammy in 2007 for their video to 'Here It Goes Again'.
Meanwhile, OK Go are set to release a deluxe edition of 'Of The Blue Colour Of The Sky' later this summer.
(by Jason Gregory)