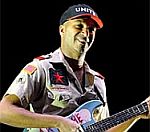 Rage Against The Machine
's
Tom Morello
has said the band will return to the UK following a one-off show in London last night (June 6).
The US band thrilled 40,000 fans at a free gig in Finsbury Park, which marked their successful Christmas number one bid last December.
The group brought to an end The X Factor's five-year dominance of the festive chart following a Facebook campaign.
Morello admitted that the gig had come "unexpectedly", and that it was "not your average Rage Against The Machine show".
Rage Against The Machine are set to headline the Download festival in Donington this weekend before returning to the US.
But Morello promised that the group would return soon.
"We're all in the middle of our other lives and music. But when we made that promise we were determined to keep it," he told BBC Newsbeat.
"Then its back home to our regular lives for a while. We'll see, hopefully we'll be back in the not too distant future."
(by Jason Gregory)