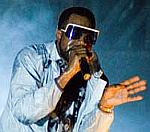 Kanye West
has debuted the video for 'Coldest Winter', a track of his 2008 album '
808s & Heartbreak
'.
The song documents the rapper's break-up with his former fiancée and his mother, Donda, who died in 2007.
The video – directed by Nabil Elderkin – features a young woman running through a forest while under seige from ghostly followers.
Elderkin, who has previously directed West's videos for 'Welcome To Heartbreak' and 'Paranoid', told MTV his latest effort was "pretty minimalistic".
"It's slow and very visual. I just wanted to catch the vibe of the song and not get too literal," he said.
"Because the lyrics are very close to Kanye and go much deeper than the video goes, obviously hearing the song you know it's very emotional."
West, who is currently recording his new album, does not appear in the video.
Watch the video for 'Coldest Winter' below:
(by Jason Gregory)