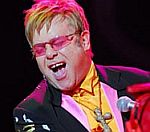 Sir
Elton John
has called Jesus a "super intelligent gay man" in a candid interview.
Speaking about his religious views, the 62-year-old singer said he believed Jesus "understood human problems" and was extremely "compassionate."
He told Parade Magazine: "On the cross, he forgave the people who crucified him. Jesus wanted us to be loving and forgiving.
"I don't know what makes people so cruel. Try being a gay woman in the Middle East - you're as good as dead."
A spokesperson for the Church Of England told the BBC: "Sir Elton's reflection that Jesus calls us all to love and forgive is one shared by all Christians.
"But insights into aspects of the historic person of Jesus are perhaps best left to the academics."
Elsewhere in the interview, Sir Elton also attacked the notion of celebrity saying it attracts "lunatics."
"Princess Diana, Gianni Versace, John Lennon, Michael Jackson, all dead. Two of them shot outside their houses. None of this would have happened if they hadn't been famous. I never had a bodyguard, ever, until Gianni died," he added.
(by Scott Colothan)