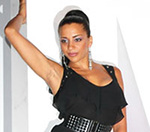 A high-profile German girl group singer has been charged with causing grievous bodily harm after she allegedly failed to tell sexual partners she was HIV positive.
Prosecutors in Darmstadt, near Frankfurt, claim that 27-year-old No Angels singer Nadja Benaissa had intercourse with three men without telling them she had the deadly virus.
According to AFP news, one of the three men has since been diagnosed as HIV positive.
Prosecutors said: "She was well aware that any unprotected sexual contact can lead to the virus being passed on."
Benaissa was originally arrested on April 11th of last year, but denied the claims against her.
If found guilty of the charges, she could face between six and ten years behind bars.
No Angels formed in 2000 after winning reality TV show Popstars.
Their first three records went straight to number one in Germany leading them to be hailed the most successful German girl group of all time.
(by Scott Colothan)