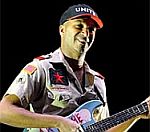 Rage Against The Machine
's
Tom Morello
has given his full backing to the
Christmas number one campaign
saying "England now is your time."
Writing on his Twitter page, Morello called Joe McElderry's song 'goofy' and urged the UK to buy the track.
He wrote: "Rage's Killing in the Name & the X-Factor's goofy Christmas single are neck and neck for num one spot on UK chart. England! Now is your time"
The Prodigy (1) and the Stereophonics (2) have both given their backing to the campaign so far.
As reported before, the Official Charts Company says that Rage Against The Machine are 10% ahead of X Factor's Joe McElderry in download sales so far.
The Facebook group which started it all, 'Rage Against The Machine For Christmas No.1' now has 754,000 members.
The group has so far made an impressive £28,000 for Shelter. You can make a pledge to the charity HERE.
(by Scott Colothan)