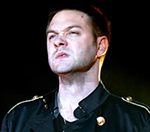 Kasabian
's Tom Meighan has launched into a huge rant about
The X Factor
,
Susan Boyle
and
Jedward
.
The 28-year-old claims The X Factor is ruining the face of music while stars like Jedward and Susan Boyle will become victims of their quick rise to fame.
Speaking to Scotland's Daily Record, Meighan even took time to spout his views on Robbie Williams saying the former Take That star is "fucked up" and "ill".
His full unabridged rant is as follows: "The X Factor is like something The Riddler would do in Batman. It sucks out everyone's brains.
"Everyone gets sucked into the TV screen for The X Factor. The nation is in a trance. I can't believe how appallingly low we have gone as a nation for people to watch that pile of shit. It's appalling music. It's shocking.
"Simon Cowell must be laughing. For him, Louis Walsh, Cheryl Cole - who was once a contestant on Popstars: The Rivals - and Dannii Minogue, who has had very few pop hits in her life, to sit there and judge people, it's incredible.
"Kids are watching that and want to be on it. Where is the push for new music for kids? It is an appalling programme.
"The twins, John and Edward, are poor kids who don't know what is going on. They have lost their heads. These kids have no idea.
"Look at Susan Boyle. It is appalling what they have done to her. She doesn't know, does she, bless her. Poor thing. They are making her into this massive star and it is ridiculous. It will torture her for the rest of life. She is not ready for it and she is not made for it. She is being manipulated. It's horrible."
On Robbie Williams, he continued: "I've never met Robbie but he needs help. God bless him. He's fucked up and doesn't know what to do with himself. It's not very nice to see. If I looked like he did on The X Factor, my mum would kick the shit out of me.
"He has 'look at me' problems. He is a pop star and a product of our society. On The X Factor, he looked really ill. It was horrific to look at. He needs help.
"It's a tragedy. Pop music is on the up. It is really big. You have The X Factor tramping everything out. There are no rock bands except the nostalgia side of it.
"It is hard for new bands to break through. No record company will sign any bands. It's not looking good for rock'n'roll but we have arrived at the right time."
(by Scott Colothan)