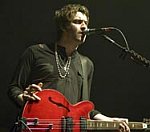 The Courteeners
are to release a track from their forthcoming new album as a free download.
The song, entitled 'Cross My Heart & Hope To Fly', will be available via the band's website from December 7.
Fans who pre-order the group's as-yet-untitled new album will also receive the song, along with an exclusive b-side, on 7" vinyl.
The Courteeners recently completed work on the follow-up to 2008's 'St. Jude' with Ed Buller and Michael Brauer in New York.
The group are due to play Manchester's Central on December 11.
(by Jason Gregory)