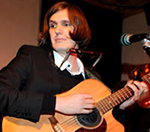 The Strokes
are hoping to start recording their much anticipated fourth studio album in January.
Writing on his side project Nickel Eye's Twitter page, Nikolai Fraiture said The Strokes are on the hunt for a suitable studio with their manager Ryan Gentles.
He tweeted: "While the guys are in LA, I went to scout some studios in NYC with Ryan today for what looks like Jan recording!!! mood = fucking excited!"
However, speaking to Pitchfork, Julian Casablancas was slightly more cautious about the band reconvening.
"We're supposed to get back together in January but don't hold me to that. We've been trying to do it for years. I'm always available and they know that but getting together is tough," he explained.
(by Scott Colothan)