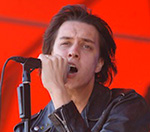 The Strokes
frontman
Julian Casablancas
has admitted he is uncertain about some elements of the band's new album '
Angles
'.
The record, which is the follow-up to 2006's 'First Impressions Of Earth', is due out later this month.
In an interview with Pitchfork, Casablancas was asked whether he liked the album and appeared uncertain in his response.
"I mean...yes...," he said. "It's a tough question because I think the whole point was that I was going to let things go so there's a bunch of stuff [on the record] I wouldn't have done."
Guitarist Nick Valensi also admitted that he found the recording process for the album "awful".
Unlike the band's three previous efforts, Casablancas recorded vocals separately from the rest of the band.
"I won't do the next album we make like this," Valensi said of the process. "No way. It was awful – just awful. Working in a fractured way, not having a singer there."
(by Jason Gregory)