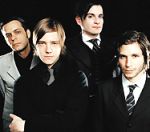 Interpol
are hoping to release their fourth studio album early next year, drummer Sam Fogarino has revealed.
The sticks man explained that the band weren't entirely happy with their last record 'Our Love To Admire' so this new album will hark back to their 2002 debut 'Turn On The Bright Lights'.
Speaking to Paste Magazine, Fogarino said: "('Our Love To Admire') was not our most cohesive moment… It was when reality kicked in as to where we were and where we were never going back to."
He continued: "The new record falls back towards the first. In trying to move forward, there was an unspoken realization that you can't let go of your sonic-defining tag.
"There was an effort in Daniel (Kessler)'s guitar tone; he rediscovered it playing in his loft space for a year without anybody. The quality of that tone, played in a big room, is just beautiful. It creates an atmosphere."
(by Scott Colothan)