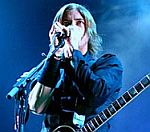 Interpol
showcased several songs from their new album as they played an intimate gig in London last night (September 15).
The New York-based band also played a series of classic tracks at The Fly Presents… gig at Heaven.
As well as a limited number of lucky ticket holders, the band were watched by a crowd that included model Helena Christensen, actor Mat Horne and members of White Lies.
Performing in the capital for the first time in three years, Interpol kicked off their set with new track 'Success', which also opens their self-titled fourth album.
The group, who were cast in atmospheric shadows throughout the gig, also played the new songs 'Summer Well', 'Try It On' and a hard-hitting version of 'Barricade'.
The intimate showcase marked the first time Interpol had performed in the UK with new members, keyboardist Brandon Curtis of The Secret Machines and bassist David Pajo, who have both been drafted in since the departure of bassist Carlos D earlier this year.
Singer Paul Banks spoke sparingly during the set, except to thank the audience for their positive reaction to the band's songs - both new and old.
"Thank you very much. Thanks very much for being here everybody. I'm pretty sure this is our first European gig," Banks said ahead of new track 'Lights'.
Interpol's set also included the crowd favourites 'Slow Hands', 'NYC' and closer 'PDA'.
Interpol's setlist was:
Success

Say Hello To The Angels

C'mere

Summer Well

Rest My Chemistry

Evil

Barricade

Lights

Narc

Take You On A Cruise

Stella Was A Diver And She Was Always Down

Try It On

Obstacle 1

Not Even Jail

NYC

Slow Hands

PDA
(by Jason Gregory)