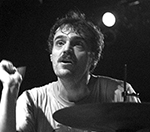 LCD Soundsystem
's James Murphy,
The Juan MacLean
and Maserati have all paid tribute to
!!!
drummer Jerry Fuchs who tragically died in New York yesterday.
Fuchs died in the early hours of yesterday morning after falling down a five storey lift shaft when an elevator stopped between floors. He was just 34-years-old.
LCD Soundystem's James Murphy said of the drummer: "He was one of the only people we all knew who was literally great at what he did and he was incredibly generous with his talent."
John MacLean, who performed with Fuchs as The Juan MacLean, paid homage saying: Jerry was one of my best and most loyal friends. He was hands-down the best drummer I have ever played with or seen for that matter.
"Jerry was with me from the start of The Juan MacLean, and we had countless adventures together all over the world. He was utterly sincere and fiercely loyal.
"During a particularly difficult time, while backstage in a club in Chicago, Jerry told me 'Juan, I will follow you to the end of the earth and I will always be there for you.' That was Jerry, the greatest drummer in the world, the greatest friend you could ever have."
Maserati also paid tribute to their former bandmate, saying in a statement: "We are humbled to have been able to create music with you for all these years, Jerry. You will be missed more than words can express. We love you, bro."
(by Scott Colothan)