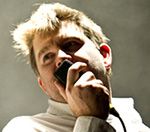 LCD Soundsystem
have sold out all four additional farewell shows.
The band, fronted by James Murphy, announced that their gig at Madison Square Garden on April 2 would be "our last show ever".
Due to ticket touts over charging fans up to $1,500, LCD Soundsystem announced an additional four nights at Manhattan's Terminal 5 which have sold out in less than an hour, reports Spinner.
To try and combat the ticket touts a system will be set up where fans will have to wait in line and present an I.D. to get into each Terminal 5 show.
Meanwhile, LCD Soundsystem frontman James Murphy has said he has decided to disband the group before "it gets embarrassing".
(by Holly Frith)