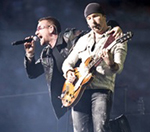 U2
's gig tonight marking the 20th anniversary of the fall of the Berlin Wall has caused huge controversy – because it's surrounded by a huge wall.
Organisers have erected an oppressive two metre wall around the Brandenburg Gate where the Irish rockers are playing their historic show.
BBC reporter Damien McGuinness, who is in Berlin today, said local people have called the move to install a wall "pretty ironic".
He said: "This has created a lot of outrage here because the falling of the wall was supposed to bring people together."
Around 100,000 people are expected to descend upon Brandenburg gate in the German capital to try and see U2 in action.
The show will be broadcast as part of the MTV Europe Music Awards in the city tonight.
(by Scott Colothan)