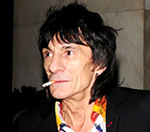 Ronnie Wood said he "hopes" to tour with
The Rolling Stones
next year.
The guitarist was speaking to BBC6music on the red carpet of the Classic Rock Awards yesterday, where he scooped the Outstanding Contribution To Music gong, when he made the revelation.
Speaking about The Stones, 62-year-old Ronnie said: "It's all very good. I saw Mick (Jagger) and Charlie (Watts) last week. Everything is great."
Asked whether he's keen to get back on stage with the rock legends, Ronnie added: "Yeah, well I just did that with The Faces, but I'm ready to rock. Let's hope so, yeah."
Picking up his accolade later on at the Park Lane hotel, Wood enthused: "It means a lot. It's about time - I've never had one just for myself."
(by Scott Colothan)