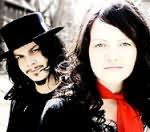 Jack White
has revealed that The White Stripes will reconvene at the end of 2009 to record their next album.
White says that once he has finished his touring with new band The Dead Weather, he and Meg White will start work on the follow up to 2007's 'Icky Thump'.
He told musicradar: "We had recorded a couple of songs at the new studio. I talked to her about coming by when I was done in the summer rehearsing with The Dead Weather - I won't be done in the summer touring with them, but after the summer jaunt."
White also talked about the duo's cancelled 2007 dates, when Meg White was said to be suffering from acute anxiety.
He explained it was "in the past", adding: "Meg is a very shy girl, a very quiet and shy person. To go full-speed from a dead-halt is overwhelming, and we had to take a break.
"My son was being born, so we didn't had a lot of time left. We were trying to cram everything into a short time span, and we were just plowin', man! The train was out of control."
(by Daniel Melia)