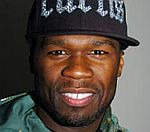 50 Cent
has slammed fellow hip-hop star
Nas
, saying the rapper's career is "finished".
50 Cent retailed after he was asked his opinion about Nas' recent song 'Queens Get The Money', which ridicules the rapper.
"Nas is cold as ice. Nas is the block of ice that sunk the Titanic... I didn't even hear his record," 50 Cent told XXL Magazine. "I didn't even hear what you talking about."
"I really don't want to talk about Nas. I think he's at one of those points to where his career's finished, to be honest.
"He's had some great moments and made good music in the past, but he no longer has the interest of the general public or myself."
As previously reported, 50 Cent is currently preparing to release his new studio album, 'Before I Self Destruct'.
(Jason Gregory)