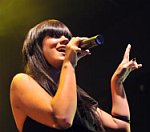 Lily Allen
has spoken for the first time about the miscarriage she suffered last January.
Allen, who had been expecting a child with Chemical Brothers star Ed Simons, said she checked into a private clinic for therapy because she was in "a pretty bad way".
But the singer, who split from Simons shortly after her miscarriage, insisted that she was now in a "happier" place.
She told The Sun newspaper: "It's not like I tried to commit suicide but I was in a pretty bad way. I felt like I couldn't go on living like I was living.
"It wasn't really rehab — I was in a place called the Capio for three weeks."
Allen, who releases her new album next month, also defended her recent weight loss, saying she comfort eats when she's not happy.
"The last two years, even though I had a lot of success with my first record, I was caning it, getting so drunk," she said.
"I was on tour with people I didn't know and I was all around the world working really hard and was really confused and lonely. I was sitting in hotel rooms ordering chips.
"Now I feel a lot happier about things and I'm excited about this new record."
Allen's new album, 'It's Not Me, It's You', is released on February 9th.
(by Jason Gregory)