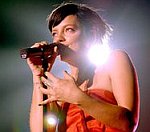 Lily Allen
has backed the Bishop Of Sheffield after he told churchgoers to listen to the singer's music as part of a course about the Bible.
Right Reverend Dr Steven Croft included a clean edit of Allen's hit 'The Fear' on a list of approved songs for participants in the Easter-themed course.
Other tracks included Neil Diamond's 'Pretty Amazing Grace' and a clip from Lord of the Rings: The Return of the King.
He told BBC News Allen's song used clever puns and "captures a certain spirit of contemporary culture".
Responding to the Dr Croft's proposal, Allen posted a link to the story on Twitter and wrote: "Quite Right!!!!!!"
Reports about the course come a year after prime minister David Cameron said he had stopped his children from listening to Allen's music because it was "unsuitable".
(by Jason Gregory)