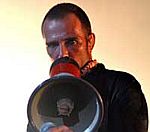 Scott Weiland
has conceded that his forthcoming solo album may isolate fans of his band, the
Stone Temple Pilots
.
"It may turn off some STP fans. That's just the way it is. At my age, I just do what I wanna do," he told Rolling Stone.
"There's art and there's commerce, and I've already accomplished the commerce part of my career."
Weiland, who reformed Stone Temple Pilots after leaving Velvet Revolver in April, said the two-disc solo record details his volatile relationship with his wife Mary.
In 2001, Weiland was arrested on suspicion of domestic violence. Six years later his wife was arrested for setting fire to his clothing.
The album, entitled 'Happy in Galoshes', was produced over the last ten years with Doug Grean - who also co-wrote the project.
Weiland told the magazine that he likens the record to Marvin Gaye's 'I Met A Little Girl'.
As previously reported, Weiland left Velvet Revolver acrimoniously following the conclusion of their European tour. The band are still without a replacement.
(by Jason Gregory)