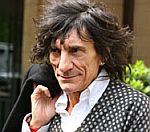 Rolling Stones
guitarist Ronnie Wood's wife, Jo, has denied that she wants a divorce, despite reports the star has been dating a 20-year-old Russian waitress.
Tabloid stories last week claimed Wood had spent time with divorce lawyers after his alleged relationship with Ekaterina Ivanova continued to flourish.
But Jo has now told the Sun newspaper that she doesn't want to divorce the guitarist.
"I don't want to divorce Ronnie but I don't know if he'll come back," she said. "I really don't know what is happening at the moment. I haven't spoken to him about it." ~
Reports of an alleged relationship between Wood and Ivanova first surfaced in July.
Shortly afterwards, Wood was admitted to rehab in order to battle his problems with drink. He has since been discharged and is being treated as an outpatient.
(by Jason Gregory)