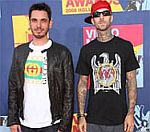 Former
Blink-182
member Travis Barker is "trying to stay upbeat" after
being injured in a plane crash
which killed four people.
Barker and his musical partner DJ AM, who also survived, were both badly burned after their Learjet careered off a runway in Columbia, South Carolina late on Friday night.
Barker's assistant, Chris Baker, and bodyguard, Charles Still, were among those killed in the incident.
Bill Nosal, a friend and spokesperson for Barker, told the Associated Press that Baker "was like extended family" to the Blink-182 star.
"If you make it out of a crash of that magnitude, somebody's looking out for you. He's trying to stay upbeat," Nosal added.
Barker and DJ AM, who slid down the right wing of the plane to escape the wreckage, are both expected to make a full recovery from their injuries.
Meanwhile, Barker's clothing company, Famous Stars and Straps, has established a memorial fund for those killed in the crash.
(by Jason Gregory)