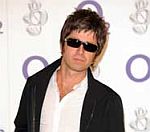 Oasis
guitarist Noel Gallagher has revealed that he wrote the band's first three albums under the influence of drugs.
Gallagher told Spin Magazine that drugs used to make him set song writing targets, which often resulted in the of Oasis' biggest hits.
"Before 1997, I hadn't written a song without the aid of the old Colombian marching gear (cocaine)," he said.
"Don't forget, I was on drugs before I was even in a band. The whole of the first three albums were written on drugs.
"I remember being off my nut and going into the back room and setting the goal of writing a song in 10 minutes - that was 'Supersonic'."
The guitarist, who is currently recovering after being attack on stage, said remembering the quality of the songs he wrote while on drugs often leaves him frustrated - but he insisted he wouldn't return to them.
"All those albums and all the B-sides were written on drugs. That's why they're so good. And that pisses me off," he said.
"I think, 'Maybe I should get back into taking drugs, and then it would be brilliant again.' But that thought lasts less than a second."
Oasis release their new album, 'Dig Out Your Soul', on October 6th. The album is preceded by the single 'The Shock of the Lightning'.
(by Jason Gregory)