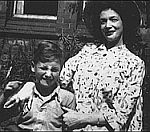 An alleged tape of the late
John Lennon
fantasising about having sex with his mother has been leaked.
The audio diary is set to feature in a forthcoming biography about the former Beatle, entitled John Lennon: The Life.
Written by respected Beatles writer Philip Norman, the book, which also supposedly claims that Lennon wanted a gay relationship with Sir Paul McCartney, has been criticised by Beatles fans and Lennon's widow Yoko Ono.
On the tape, which was apparently recorded on September 5th 1979, the voice alleged to be Lennon's says: "I was just remembering the time I had my hand on my mother's tit in 1 Blomfield Road.
"It was when I was about 14. I took a day off school, I was always doing that and hanging out in her house.
"We were lying on the bed and I was thinking 'I wonder if I should do anything else?'"
"It was a strange moment, because I actually had the hots for some rather lower class female who lived on the other side of the road.
"I always think that I should have done it. Presuming she would have allowed it."
The alleged contents of the tape have been printed in today's Sun newspaper, which says a friend of Norman's wanted it to counter the anger of fans.
"This is not what people want to hear – but it's the truth," the source told the newspaper.
"John was a complex man, even when he was a kid. This audio recording is 100 per cent genuine. It was never meant for public consumption, but has now leaked out."
John Lennon: The Life features contributions from Sir Paul and Ono.
(by Jason Gregory)