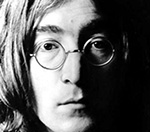 John Lennon
's drawings and letters are set to be turned into a published book.
Yoko Ono has sold the rights to a collection of Lennon's letters and drawings, Rolling Stone reports.
The book will include over 150 letters, written throughout of Lennon's life to record companies, newspapers and drawings.
The as-yet-untitled collection will be released in October to coincide with the 50th anniversary of the Beatles debut single 'Love Me Do'.
Meanwhile, the recently auctioned John Lennon suit has been caught up in a lawsuit, it has been reported.
(Gigwise)