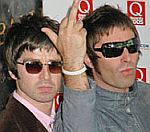 Oasis
has announced that they have been forced to post pone tonight's (September 9) show in London, Ontario.
The announcement was made this morning after guitarist Noel Gallagher was advised not to perform on stage due to being attacked on stage during Virgin Festival in Toronto.
"Noel fell heavily on to his monitor speakers when he was pushed suddenly from behind by his attacker and suffered bruising to his ribs and hip," states the website.
"He was examined in a local hospital after the band's performance and has been advised to rest."
"Unfortunately, despite resting up yesterday, the extent of his injuries mean he will not be able to perform tonight."
The concert has now been rescheduled for December 15, 2008. All tickets will remain valid for the new show date. Refunds will be available at point of ticket purchase for all fans unable to attend.
(by Victoria Tsigonis)