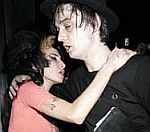 Babyshambles
frontman Pete Doherty has admitted to being "in awe" of
Amy Winehouse
and revealed his desire to work with the singer.
Doherty told the Mail on Sunday that he regarded Winehouse as "an amazing character" but admitted that he doesn't "quite understand her".
"I don't really know how to say this. But I'm kind of in awe of her because I do believe she is an incredible talent who has come out of nowhere and like a lot of the greats she is irreplaceable so…"
After being prompted by the interviewer, Doherty agreed that the public didn't want to lose the singer, who is battling a problem with drugs and alcohol.
The Babyshambles frontman also revealed that he would like to work with Winehouse.
"I'd like to collaborate with her. But last time I was round there and we were jamming she said, 'Come on then, play me some of your new ideas'," Doherty said.
"So I played her my best new riff and she said, 'Well, you're not inspired, are you?' So she pissed on my bonfire a bit."
(by Jason Gregory)