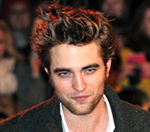 Twilight
actor Robert Pattinson has confirmed plans to launch a music career.
The 23-year-old British actor, who plays vampire Edward Cullen, said he wanted to record some songs after he finishes promoting the hit teen saga.
But he admitted that his new-found popularity would probably inhibit his chances of playing live.
"I write songs, that's true. I'll record a few tracks as soon as I finish the promotion for the movies, but before I won't do anything," he told Paris Match.
"I don't want to release an album which has a sticker on it saying 'By the vampire of Twilight' on it.
"If the record is released one day there won't be my name or my picture on the cover. Everyone would be biased. No one would listen to it."
Pattinson added: "Before I was famous I would have loved to perform in bars and pubs. But this isn't possible any more."
The actor's first foray into music came in 2008 when he contributed two songs to the score for the original Twilight movie.
Pattinson can currently be seen in New Moon - the second installment of the vampire franchise - which is out now.
(by Jason Gregory)