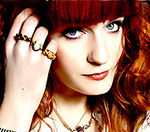 Florence & The Machine
singer Florence Welch has admitted her music taste wasn't always so cool.
The singer has revealed that her first record purchase was the debut album from girlband the Spice Girls.
Speaking to The Sun she said: "I was a child of the Nineties, so the first album I got was Spice World on tape."
Welch is heading back into the studio next month to record the highly anticipated follow up to 2009's 'Lungs'.
Florence & The Machine announced that they would be joining Inerpol and The Fray as support on U2's 2011 US Tour.
Tickets are on sale now.
(by Holly Frith)