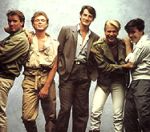 Spandau Ballet
triggered a security alert after their comeback appearance on Friday Night with Jonathan Ross last week, it's been claimed.
The band's drummer John Keeble is reported to have angered BBC security officials after he evaded escort to pick up a bottle of tequila.
In total, the 80s group are said to have consumed 200 bottles of beer and three bottles of tequila during the show, which is pre-recorded.
"They got stuck into the booze big time. Jonathan joined them for a bit," a source told The Daily Mirror newspaper.
"As they were escorted out, John shouted: 'I forgot the tequila!' and legged it back in. Security went ballistic. It was chaos."
Spandau Ballet's appearance on the TV show marked their first public performance since they announced their reunion last month.
The band are due to play reunion dates in the UK and Ireland later this year before embarking on a more extensive world tour.
(by Jason Gregory)