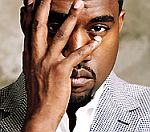 Kanye West
and
Serj Tankian
are among the stars who have agreed not to perform in Arizona until the state changes its divisive new immigration law.
Conor Oberst and Massive Attack have also signed a boycott letter drafted by Rage Against The Machine's Zach de la Rocha.
In April, Arizona's governor Jan Brewer passed a new bill, SB1070, which allows police offers to challenge people they suspect of being an illegal immigrant.
Those who are unable to prove their immigration status will be arrested as criminals.
In the letter, De la Rocha said: "Fans of our music, our stories, our films and our words can be pulled over and harassed every day because they are brown or black, or for the way they speak, or for the music they listen to.
"People who are poor like some of us used to be could be forced to live in a constant state of fear while just doing what they can to find work and survive.
"This law opens the door for them to be shaked down, or even worse, detained and deported while just trying to travel home from school, from home to work, or when they just roll out with their friends. "
The singer warned that if other states followed suit, America would be "headed towards a pre-civil rights era reality".
Meanwhile, Rage Against The Machine will perform a one-off gig in London's Finsbury Park on Sunday (June 6).
The concert, dubbed Rage Factor, will celebrate the band's successful Christmas number one bid last year.
(by Jason Gregory)