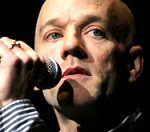 R.E.M
have announced the tracklisting of their forthcoming album '
Collapse Into Now
'.
The album, due out early 2011, features collaborations with Pearl Jam's Eddie Vedder, Patti Smith and Peaches.
In an interview with Spin, Mills said the album was "more expansive" than its predecessor, 2008's 'Accelerate'.
Meanwhile, R.E.M's classic hit 'Everybody Hurts' has been named the song most likely to make men cry, a new survey revealed.
The tracklisting for 'Collapse Into Now' is:
Discoverer

All The Best

Uberlin

Oh My Heart

It Happened Today (feat. Eddie Vedder)

Every Day Is Yours To Win

Alligator Aviator Autopilot Antimatter (feat. Peaches and Lenny Kaye)

Walk It Back

Mine Smell Like Honey

That Someone Is You

Me, Marlon Brando, Marlon Brando and I
(by Holly Frith)