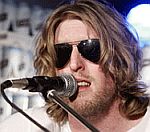 Razorlight
have announced that drummer Andy Burrows has left the band for "personal reasons".
The announcement comes just days after Burrows failed to appear with the band at a gig in Wolverhampton.
In a statement on the bands official website, Burrows said: "The past five years in Razorlight have been an amazing experience.
"I am very proud of everything that myself, Johnny, Carl [Dalemo] and Bjorn [Agren] have achieved together, but for personal reasons I have decided to leave the band. I will be pursuing other musical ventures."
Burrows, who released his first solo album in 2008, will be replaced by David Sullivan-Kaplan for the rest of 2009.
Johnny Borrell added to the statement: "Over the last two albums and five years Andy has been an integral part of Razorlight and we will miss him," he said.
"From the day he walked into our rehearsal studio it was obvious that he was an amazing drummer and he's contributed on many levels beyond that.
"He's been a great player and a great friend and I think we'll both always be proud of the music we've made together. As far as the band's future is concerned, we're all looking forward to touring with Skully and getting on with making our next record."
(by Daniel Melia)