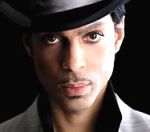 Prince
has claimed that the internet is "completely over" and questioned to role of digital music sites like iTunes.
The singer's new album '20Ten' is set to be given away exclusively with copies of the Daily Mirror later this month.
Unlike most new releases, it will not be available for download from legal music platforms.
In an interview with the newspaper, Prince said he thought the internet was a dying platform – and compared it to MTV.
"The internet's completely over. I don't see why I should give my new music to iTunes or anyone else," he said.
"They won't pay me an advance for it and then they get angry when they can't get it."
Prince added: "The internet's like MTV. At one time MTV was hip and suddenly it became outdated. Anyway, all these computers and digital gadgets are no good.
"They just fill your head with numbers and that can't be good for you."
It is the second time Prince has distributed a new album via a national newspaper. His 2007 LP 'Planet Earth' came with copies of the Mail on Sunday.
(by Jason Gregory)