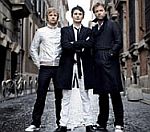 Muse
have promised to do something "on a Spinal Tap embarrassment level" when they headline the V Festival this summer.
The band's frontman Matt Bellamy said that they were really looking forward to headlining the dual-festival – which takes place simultaneously in Staffordshire and Chelmsford.
"We're gonna try and do something quite spectacular – we will try and get a UFO to come in and land on the top of (everyone's) heads or something," he told the BBC.
Meanwhile, Muse will play a special one-of gig at the Royal Albert Hall next month on behalf of the Teenage Cancer Trust.
The four night event will also feature headlining performances from Paul Weller and The Fratellis.
Star of The Mighty Boosh, Noel Fielding, will open the string of concerts with a comedy night which is expected to feature a number of special guests.
(by Jason Gregory)