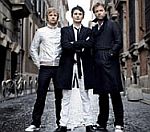 Muse
frontman Matt Bellamy has revealed that the band are considering a world stadium tour following the success of their shows at Wembley Stadium last summer.
The band's two spectacular sold out performances at the recently regenerated venue in London drew worldwide acclaim – something which Bellamy admits is inspiring.
"What inspires us is the idea maybe of doing shows like Wembley Stadium, but trying to bring it to more countries around the world, because we haven't really toured at stadium level," he told 6music.
The singer added that he can see two sides of the band evolving, which consist of big shows and smaller, more intimate gigs.
As we reported earlier, Bellamy has already confirmed that the band will be performing at the Royal Albert Hall in London this April on behalf of the Teenage Cancer Trust.
(by Jason Gregory)