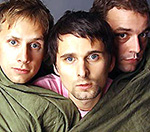 Muse
drummer Dominic Howard has revealed they are concerned about the possible effects the lasers they use at the live gigs could have on their eye sight.
Howard told The Sun the band's fears started after they shone the powerful lights onto white balloons that get passed out to the audience during their set.
"It was like a slow burn that gradually disintegrated them into nothing," he said. "We all thought, 'What the hell will our corneas be like in 20 years?'
"We could end up like that amazing vocal group the Blind Boys Of Alabama - getting around doing it really well but not seeing anything."
Muse are currently on a brief break before touring resumes in South American in March.
(by Jason Gregory)