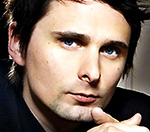 Muse
frontman Matt Bellamy has revealed that they have had discussions about becoming the first band to play in space.
The singer said the group would have to scale back their show, but that he was "sure" space travel would become more readily available during his lifetime.
"We've had some discussions about playing in space. Sometimes very coherent conversations and sometimes very late at night, but it's for real," he told The Sun.
"I'm thinking of approaching Richard Branson to see if we could do it on his spacecraft he's got happening.
"Although we do have a lot of equipment, so I guess we'd have to use pods to carry our stuff and we'd scale back the shows a lot."
Muse recently completed an Australian tour, which coincided with the England cricket team's Ashes battle.
(by Jason Gregory)