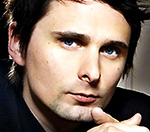 Muse
frontman Matt Bellamy has revealed
Jay-Z
is a big fan of Devon.
The singer said the pair discussed the county, located in the south west of England, at the Coachella festival earlier this year.
"It was funny that from his point of view it seems like Devon is a happening place, when it's actually a bit of a rural backwater - in a good way," he said.
Bellamy, whose family moved to Teignmouth when he was a child, has also revealed that he owns a farm in the county.
He told The Sun he didn't live there at present but had long term plans to "grow industrial hemp for making paper and material".
He added: "When I stop touring I'm going to hang around there and start shearing sheep."
Muse are currently on hiatus but Bellamy has remained in the headlines due to his high profile romance with actress Kate Hudson.
(by Jason Gregory)