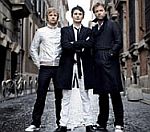 Muse
have been asked to contribute to the soundtrack for the forthcoming
Twilight
movie, New Moon.
Frontman Matt Bellamy said the film's director Chris Weitz wanted a re-working of 'I Belong To You', which features on the band's new album 'The Resistance'.
"He wants a rendition of that but the only thing with the new film is they want the songs to be exclusive to the film," Bellamy told the MTV.
"So he's asking if I mind doing, or if we mind doing an alternative version of it."
Bellamy said he expected the band would attempt to re-imagine the song because it wasn't one of the main tracks on the album.
"I think it's alright - if it was one of the main tracks on the album I would never do it," he said. "But it's actually one of the weirder tracks on the album.
"(It's) one of the can't believe we got away with it kind of tracks.
"I think it might be worth giving it a go cos it's a track that might not get played live very often… one of the obscure tracks off the album so it might give that track some life that it wouldn't have otherwise."
Muse's 'Supermassive Black Hole' was one of the songs on the soundtrack to original movie in the vampire series.
As previously reported, the score for the second film is expected to include songs by Radiohead's Thom Yorke, Death Cab For Cutie and Bon Iver.
New Moon is the second instalment of the vampire saga and sees Robert Pattinson and Kristen Stewart reprise their roles as Edward Cullen and Bella Swan.
Details about the film were unveiled at Comic-Con in the summer.
(by Jason Gregory)