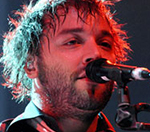 Muse
's Chris Wolstenholme says their homecoming shows in Teignmouth last weekend were the "oddest" experience in his life.
The bassist said he couldn't get his head round the fact that he was just five minutes away from his Devon home.
Speaking to the BBC, Wolstenholme said: "The idea (to do the shows) came up when we were finishing the album ('The Resistance'). It felt like the right time to do this.
"I think the strangest thing was coming off stage getting in a car and five minutes after walking through my front door.
"I was walking around my kitchen last night thinking, 'This is very weird, what do I do now?' I was walking around my kitchen thinking 'This is the oddest thing I've ever done in my life'."
(by Scott Colothan)