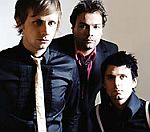 Muse
are set to play a secret show in France on September 8.
Details of the venue and how fans can get tickets will be announced at 8am on the morning of the show on France's Virgin Radio.
The gig, announced via Muse's official website, will follow the band's two homecoming shows in Devon later this week.
Muse release their new album 'The Resistance' on September 14.
(by Jason Gregory)