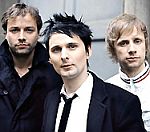 Muse
are giving fans the chance to hear a song from their new album ahead of its released in September.
The group have left four USB sticks in the care of agents in Dubai, Moscow, Paris and Berlin.
The memory sticks contains a code which, when found, can be used to help solve a cryptic puzzle on the band's website.
Each puzzle will unlock a section of the song 'United States of Eurasia'.
The track is taken from 'The Resistance', which is the band's follow-up to 2006's 'Black Holes and Revelations'.
The album is released on September 14. Fans can follow the progress of the puzzle here.
(by Jason Gregory)