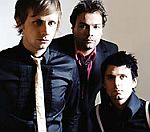 Muse
have revealed through their
Twitter account
that the title of their new album will be '
The Resistance
'.
The band have been recording the follow up to 2006's 'Black Holes And Revelations' for several months with Matt Bellamy calling it Classic FM friendly.
In a webchat with fans at the end of 2008, Bellamy told fans during a webchat that the record could include a three-part symphony.
He said:"As a large percentage of the composition is orchestral, I have never wanted to collaborate with a string arranger as they may make it 'theirs'," he said.
"So I have been arranging the orchestral elements myself which is taking a long time due to my inexperience with large scale scoring.
"It should hopefully make the next album as the final three tracks."
The band plan to tour the UK, Europe and US this autumn.
(by Daniel Melia)