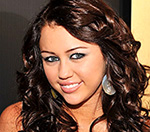 Miley Cyrus
has spoken out about the recent incident involving her smoking 'salvia'.
In December, Cyrus, who made her name in Disney's Hannah Montana, was at the centre of a tabloid scandal when footage of her smoking a bong emerged online.
The singer has now said that she is "disappointed" in herself over the incident.
"I made a mistake. ... I'm disappointed in myself for disappointing my fans. So for me it was a bad decision, because of my fans and because of what I stand for," Cyrus told Marie Claire.
She added: "I'm in the biggest learning period. It shouldn't be 'You should be perfect 'cause you're 17.' You should be imperfect 'cause you're 17. I think people forget what that means."
Meanwhile, Miley Cyrus was recently voted the worst celebrity influence.
(by Holly Frith)