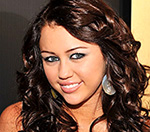 Miley Cyrus
has been celebrating her 18th birthday in style by smoking a bong filled with psychedelic herb salvia, it has been reported.
The Hannah Montana star was caught on film smoking the bong whilst she celebrated with friends at her own party.
Gossip website TMZ.com posted the video that was filmed on a friends phone. The substance is said to be psychedelic herb salvia, which is is not illegal in California, a source said.
Meanwhile, Miley Cyrus and B.o.B will both perform at next month's MTV Europe Music Awards (EMAs), it's been announced.
(by Holly Frith)