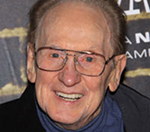 Les Paul
, the pioneering American jazz guitarist and inventor, has died at the age of 94.
Paul, real name Lester William Polfuss, died of complications from pneumonia at White Plains Hospital, New York earlier today (August 13).
The guitarist's family and friends were by his side at the time, a statement on the Gibson Guitars website said.
Paul was a pioneer in the development of the solid-body electric guitar and also created a series of recording techniques, including multi-tracking, overdubbing and delay effects.
Born in 1915 in Waukesham, Wisconsin, Les Paul began performing as a honky-tonk guitarist at the age of 13.
He dropped out of school four years later in order to pursue his career as a musician, which saw him perform in a number of bands, including his own Les Paul Trio.
But he is likely to be best remembered for creating the Gibson Les Paul guitar, which was introduced in 1952.
It has become one of the staple guitars for musicians around the world.
Henry Juszkiewicz, chairman of Gibson Guitar, said: "His influence extends around the globe and across every boundary."
(by Jason Gregory)