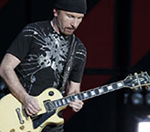 U2
guitarist the Edge has paid tribute to late guitar pioneer
Les Paul
in a message posted on the Irish band's
official website
.
Referring to Paul as "a legend of the guitar and a true renaissance man", the 48 year-old is a long time Les Paul guitar user.
He said: "Les Paul disproves the cliche that you can only be famous for one thing. His legacy as a musician and inventor will live on".
The Edge - real name David Evans - went on to conclude that Paul's "influence on Rock and Roll will never be forgotten."
Les Paul, who died in New York yesterday from complications after suffering from pneumonia, is also known as the inventor of the multi-track recording technique.
(by Andrew Almond)