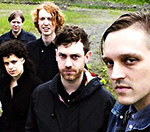 Arcade Fire
,
Lady Antebellum
and
Lady Gaga
were the big winners at this year's Grammy Awards in Los Angeles.
The Montreal-based band took home the award for Album of the Year for their third LP, 'The Suburbs'.
Country trio Lady Antebellum won five awards, including Song Of The Year and Record Of The year for 'Need You Now'.
Lady Gaga, who arrived at the event inside a giant egg, picked up three awards, including Best Pop Vocal Album for 'The Fame Monster'.
Jay-Z and John Legend won three gongs each, while Eminem, who had been nominated for ten awards, only took home two – Rap Album and Rap Solo Performance.
The 53rd Annual Grammy Awards took place at the Staples Center in Los Angeles.
Grammy Awards 2011 winners list:
Album of the Year -

Arcade Fire

, '

The Suburbs

'

Record of the Year -

Lady Antebellum

, 'Need You Now'

Song of the Year -

Lady Antebellum

, 'Need You Now'

New Artist -

Esperanza Spalding

Female Pop Vocal Performance –

Lady Gaga

, 'Bad Romance'

Male Pop Vocal Performance –

Bruno Mars

, 'Just The Way You Are'

Pop Vocal Album -

Lady Gaga

, '

The Fame Monster

'

Alternative Album –

The Black Keys

, '

Brothers

'

Traditional Pop Vocal Album –

Michael Buble

, '

Crazy Love

'

Rock Song –

Neil Young

, 'Angry World'

Rock Album –

Muse

, '

The Resistance

'

Rock Performance –

The Black Keys

, 'Tighten Up'

Solo Rock Vocal Performance –

Paul McCartney

, 'Helter Skelter'

Hard Rock Performance –

Them Crooked Vultures

, 'New Fang'

Metal Performance –

Iron Maiden

, 'El Dorado'

R&B Album –

John Legend

&

The Roots

, '

Wake up!

'

Contemporary R&B Album -

Usher

'

Raymond V Raymond

'

R&B Song -

John Legend

&

The Roots

, 'Shine'

R&B Performance -

Sade

, 'Soldier Of Love'

Traditional R&B Vocal Performance -

John Legend

&

The Roots

, 'Hang On In There'

Urban/Alternative Performance -

Cee Lo Green

, '(Forget) You'

Rap Album –

Eminem

, '

Recovery

'

Rap Solo Performance –

Eminem

, 'Not Afraid'

Rap Performance By A Duo or Group -

Jay-Z

and

Swizz Beatz

, 'On To The Next One'

Rap Song –

Jay-Z

and

Alicia Keys

, 'Empire State of Mind'

Rap/Sung Collaboration -

Jay-Z

and

Alicia Keys

, 'Empire State Of Mind'

Dance Recording –

Rihanna

, 'Only Girl (In The World)'

Electronic Dance Album –

La Roux

, '

La Roux

'

Musical Show Album –

Green Day

, '

American Idiot

'

Country Album -

Lady Antebellum

, '

Need You Now

'

Country Performance by a Duo or Group -

Lady Antebellum

, 'Need You Now'





See also:

Lady Gaga 'Judas' Performance On Ellen DeGeneres Released Online

(28.04.2011)

Lady Gaga 'Honoured' To Be Elton John Son's Godmother

(28.04.2011)

Lady Gaga: 'Judas' Video To Debut Next Week

(28.04.2011)

Lady Gaga To Donate One Million Dollars To Homeless Charity

(27.04.2011)

Lady Gaga Calls 'Twitter Police' After Account Hacked

(27.04.2011)

Glee Slammed For Pushing 'Gay Agenda' With Lady Gaga Episode

(27.04.2011)

Lady Gaga: 'Judas' Video Celebrates Faith

(27.04.2011)

Lady Gaga To Premiere 'Judas' On American Idol

(26.04.2011)

Lady Gaga: God Created My Success

(26.04.2011)

Lady Gaga Is Elton John's Son's Godmother, Singer Confirms

(26.04.2011)

Lady Gaga Breaks Down During TV Interview

(25.04.2011)




Arcade Fire. All news for this artist

Lady GaGa. All news for this artist

Lady Antebellum. All news for this artist